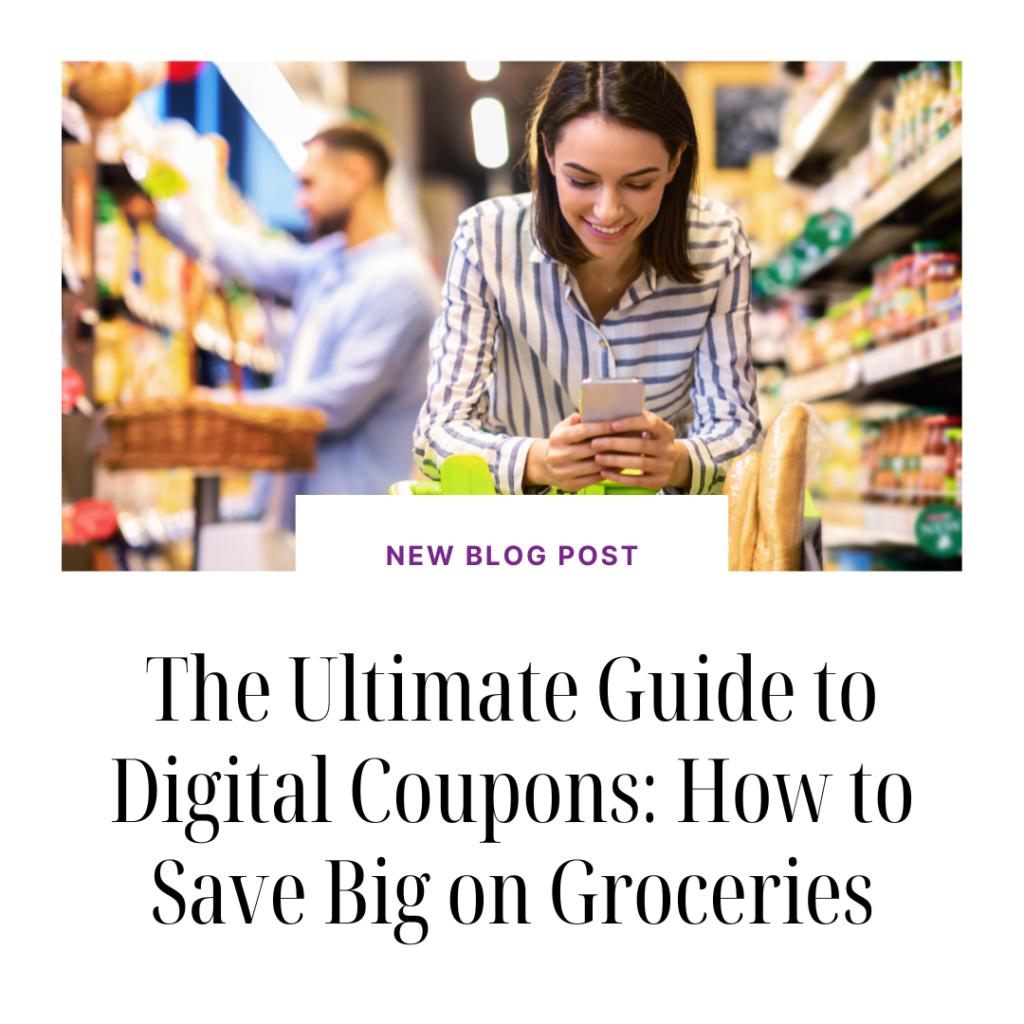 Hi, savvy shoppers! Are you ready to take your savings game to the next level? In today's digital age, the power of coupons has expanded beyond the Sunday newspaper clippings. Welcome to the world of digital coupons, where the savings are just a few clicks away. In this guide, we'll explore the fantastic benefits of using digital coupons, share some top-notch apps and websites to find them, and give you the lowdown on squeezing every last drop of savings. So, grab your smartphone or laptop, and let's dive in!
The Power of Digital Coupons for Grocery Shopping
Ibotta: Cashback Galore
First up, let's talk about Ibotta. This powerhouse app is a game-changer when it comes to saving on groceries. Ibotta offers cashback on a wide range of products and is incredibly easy to use. Here's how it works:
Browse the app for grocery items you plan to buy.

Add offers to your Ibotta account.

Go shopping and purchase the items.

Snap a photo of your receipt and upload it to Ibotta.

Watch the cashback roll in!
Ibotta also partners with various grocery stores, allowing you to link your store loyalty card for automatic savings. Plus, they frequently offer bonuses for completing specific tasks or buying featured products.
Checkout51: Effortless Savings
Checkout51 is another must-have app for grocery savings. It offers weekly cashback on various products, including fresh produce and everyday essentials. Here's how it works:
Browse the weekly offers on Checkout51.

Buy the featured products at any store.

Snap a photo of your receipt to redeem your cashback.
Checkout51 is perfect for those who prefer a straightforward cashback experience without the need to scan barcodes or clip coupons.
Shopmium: Freebies and Discounts
Shopmium is all about treating you to freebies and discounts on grocery items. The process is simple:
Browse the app for free or discounted products.

Purchase the items at any store.

Snap a photo of your receipt and barcode.

Get your cashback via PayPal or bank transfer.
Shopmium often features high-quality brands, making it a delightful way to discover new products without breaking the bank.
Grocery Stores with Digital Coupon Programs
Now that you're familiar with these fantastic apps let's dive into how major grocery store chains offer digital coupons to help you save:
Kroger: Load and Save
Kroger is known for its user-friendly digital coupon program. Visit the Kroger website or app, create an account, and browse digital coupons. You can load these coupons directly onto your Kroger Plus Card, and the discounts will automatically apply when you check out. Kroger also offers personalized coupons based on your shopping habits, ensuring you get the most relevant deals.
CVS and Walgreens: Pharmacy and Grocery Savings
CVS and Walgreens have robust digital coupon programs extending beyond pharmacy items. Their apps feature digital coupons for groceries, household items, and personal care products. Download the app, create an account, and start saving by clipping digital coupons.
Publix: Where Shopping Is a Pleasure
If you're a Publix shopper, you're in for a treat. Publix offers a convenient digital coupon program through its app. You can easily browse, clip, and redeem coupons at the checkout. The app also provides access to weekly sales flyers, making it a one-stop shop for savings.
Dollar General: Affordable Savings
Dollar General is another excellent option for budget-conscious shoppers. Their digital coupon program can be accessed through the Dollar General app or website. Create an account and start adding digital coupons to your account. These discounts will be applied at checkout when you provide your phone number associated with your account.
Unlocking the Power of Coupons: Streamlining Your Savings Journey with Coupon Community
Now that you've explored these money-saving apps and grocery store digital coupon programs let's delve into an even more hassle-free method of accessing and organizing all your digital, printable, and paper coupons unified in a single, user-friendly platform!
Coupon Community: Your Comprehensive Coupon Hub
Introducing Coupon Community (www.couponcommunity.com), your ultimate destination for simplifying your couponing experience. With our extensive, searchable AI-powered coupon database, we make it incredibly easy to find digital coupons, printable coupons, and paper coupons from various sources, including Ibotta, Checkout51, Shopmium, and major stores like Kroger, CVS, Walgreens, Publix, and Dollar General.
Here's how it works:
Use our intuitive search feature to find manufacturer and store coupons for the products you need, whether digital, printable, or paper.

Search and find the coupons you want from a wide range of sources.

Once your search results are displayed, click the link to load the digital coupons onto your preferred app or store loyalty card, print the printable coupons, or order the paper coupons for in-store use.
That's it! No matter what type of coupon you prefer, Coupon Community has you covered so you can streamline your couponing experience and make the most of your savings journey.
Plan Your Savings Strategically
Now that you can access all your coupons in one place, it's even easier to strategically plan your grocery savings. Take advantage of the wide variety of coupons available on Coupon Community and create a shopping list based on the coupons you've loaded or printed.
Combine and Maximize Your Savings
Coupon stacking just got more convenient with Coupon Community. Since you can easily access digital, printable, and paper coupons from different sources, you can mix and match offers to maximize your savings. Combine digital coupons from your favorite apps with printable and paper coupons from our database to supercharge your discounts.
Stay Organized and Save More
With Coupon Community, staying organized has never been easier. Track the newest digital coupons all in one place, receive email updates when new coupons are added, and ensure you never miss out on savings. Plus, you can easily find and print your favorite coupons when you need them.
Conclusion:
Couponing is a savvy shopper's best friend, offering convenience and substantial savings. By using apps like Ibotta, Checkout51, and Shopmium, and taking advantage of digital coupon programs at major grocery stores like Kroger, CVS, Walgreens, Publix, and Dollar General, you can watch your grocery bills shrink while still enjoying the foods you love. And now, with Coupon Community, you can streamline your couponing experience, making it easier than ever to access and manage all types of coupons—digital, printable, and paper—all in one place. So, embrace the couponing revolution and save big on your next grocery shopping trip. Happy savings!